Brookdale Estate Settlement Services
An Experienced Partner You Can Trust
Searching for Brookdale estate settlement services?
As New Jersey's most trusted auction house specializing in the sale of estate and personal property, Sterling Associates has earned an unparalleled reputation for quality, service and honesty well beyond the Garden State.
We would like to earn your trust and become your preferred choice for the liquidation of estates, collections and other valuables.
Lead by our founder, 35-year-plus auction industry veteran Stephen D'Atri, Sterling Associates is a highly experienced, second-generation auction specialist located in Bergen County, New Jersey. Producing successful auctions for our consignors and bidders is what we do best, and it shows in every step of our meticulously crafted process:
Accurately appraising goods
Writing compelling catalog descriptions
Capturing stunning photographs
Coordinating shipping items safely to their final destination
Our goal is to secure the maximum value on every item we sell for our consignors – whether it's an entire household or a single item.
Simply put, there is no one in the auction business with more experience and success at settling estates than Sterling Associates of Bergen County.
Trust Sterling Associates to be your Brookdale estate settlement services partner.
We Deliver Results
Sterling Associates' auctions enjoy a worldwide following thanks to our use of real-time internet bidding platforms. These systems allow bidders from any internet-connected device to monitor and participate in our auction events and bid against the floor, dramatically expanding the bidding population and resulting in  higher results overall.
Recently we made headlines when we auctioned the high-profile Revolutionary War-era powder horn that was the personal possession of Alexander Hamilton. The item realized $115,620.
Other recent highlights include:
A single antique Chinese bronze for $151,450
A collection of antique armor
Paintings from the estate of a noted New Jersey artist
A three-generation family collection of military memorabilia
A genuine Transylvanian vampire-killing kit, which made worldwide news
You never know what you'll find in a New Jersey estate. Sterling Associates is prepared to sell it all for you and your clients.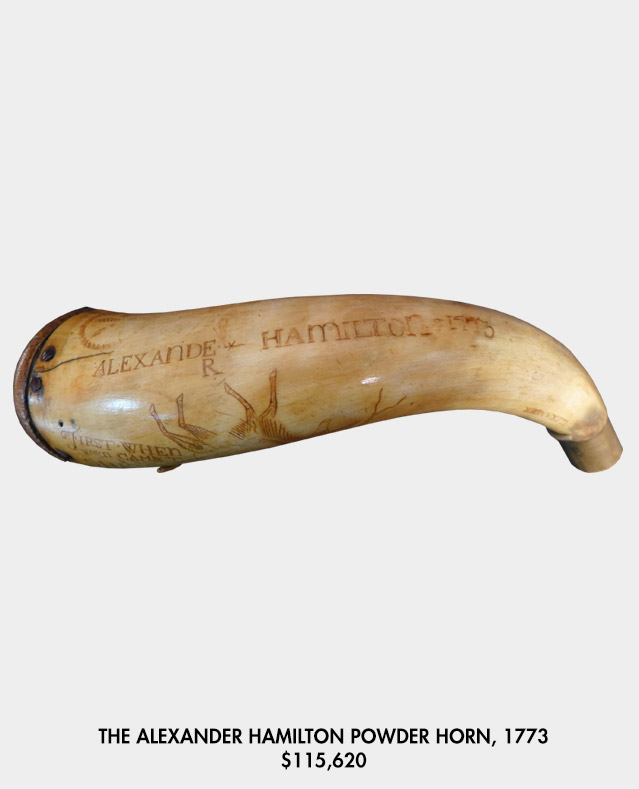 How We Serve You
We specialize in complete service, from a single piece to a complete estate. We can provide clean-outs, if required, so that we handle the project from beginning to end.
Here's what we do for you and your clients:
All-Encompassing Support: From initial review through pick-up, advertising and auction, Sterling Associates guides the client with ease through the process.
Extensive Knowledge and Experience: Our staff consists of researchers, experts and historians.
Local Roots, Global Reach: CEO Stephen D'Atri has been in the antiques business in Bergen County for more than 35 years and travels the world to expand his knowledge of art and artifacts.
Contact Us Today
Whether you represent an massive estate, or have a client with only a single item to auction, Sterling Associates wants to hear from you and become your Brookdale estate settlement services provider.
Call us at (201) 768-1140 or fax us at (201) 768-3100 to discuss your situation and how our services can benefit you and your client with the maximum possible return.
Our founder and CEO Stephen D'Atri will personally oversee every element of your consignment, from initial free and confidential consultation through payment.
Your estates are in good hands with Sterling Associates. Contact us today.